Main eGift card option: Toggling on this feature provides a focal point for your campaign around 1 gift card brand. You can tie this into your messaging, whilst still providing plenty of options for your recipients to choose from. You can also set this so you senders can choose a different main offer in the send flow, providing flexibility for personalized sending! This feature also includes an improved pricing experience in the send flow, due to the many price points different gift cards can come with, it can be hard to pick an amount the recipient can definitely claim, with the main offer, you can only send an amount which is definitely available for the recipient for the main brand. Along with this, it provides live currency conversions, so if the selected brand is in a currency you are not familiar with, you will see the amount the recipient will get and the converted cost in your currency!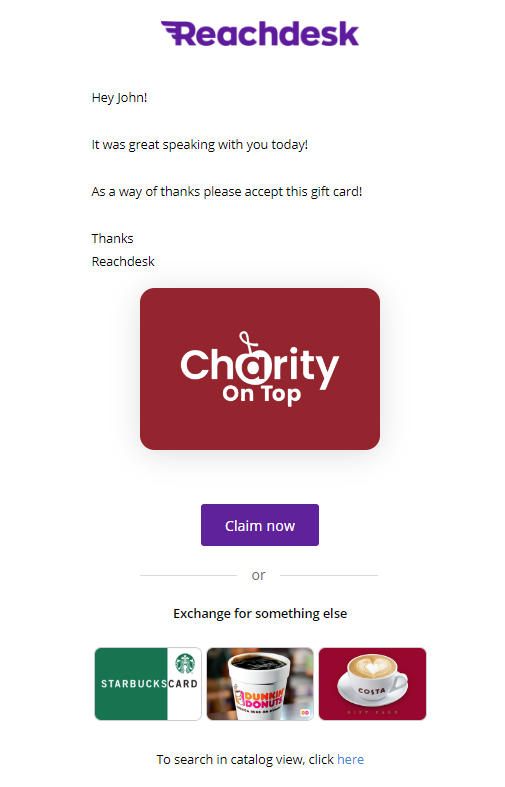 Focus messaging around a specific brand or gift card type, but still maintain the power of choice for the recipient to choose a gift card that suits them best, helping keep redemption rates higher

i.e. Setting the Main Offer as starbucks to include some coffee related messaging, Starbucks will show as the main gift, but they can still switch to something else
Use messaging across all target countries, despite a brand/type not being available

Allows senders to keep their coffee messaging, but can send globally, and if a country doesn't have a coffee voucher, they can still redeem a gift card!
Ensures that for at least the main offered gift, the amount sent is available to be redeemed for that brand

In the send flow, you will only be able to enter an amount which is definitely available for the main offer, both within the brands limits and the campaign settings
Choose an appropriate amount based on what the main offer can be sent in, whilst seeing a conversion into your own currency, so you can set whole numbers more easily in foreign currencies, whilst understanding how much you will be charged all in one screen

Showing the currency conversion in the users preferred balance, alongside the true currency amount (both denominations and open value)
The min-max range taking into account both the range of the main offer brand, and the campaign settings
Denomination based:

Open Value based:

When changing the main option in the send flow, the email template preview will update to the new brand
Alternative offers will list the 3 based on; engage country, available at price selected, then by order of popularity
The redemption page will also display the main offer at the top of the page!
Additional Demo Links:
eGift Campaign Creation