If you are sending bundle gifts to your prospects, customers and employees you might want to let them make their own choice when it comes to the size of that.

Now, with Items Collections, it is a very easy thing to send Size Swag on your campaigns


When is this useful for me?
If you already have onboarding, birthday or anniversary campaigns that you currently send via a landing page

If you'd like to send bundles for core gifting occasions

If the swag you send has variables, i.e. colour, size, gender and you want to let the recipient choose what works best for them
What campaigns can I use it for?



Manual and Triggered Bundle Campaigns

What variants can be supported?
Entirely up to you, as long as you are able to group your inventory by a theme! Think apparel sizes, colours, genders, flavours and more.
How do I do this?
It's really simple! Let me talk you through the setup.
First, you will need your inventory in Reachdesk. It can still be in transit, you can get the ball rolling with the set-up as long as you have the relevant SKUs in the system.


Create your item collections
Navigate to Inventory > Items collections

Click Create Items Collection

Give your collection a name

i.e. Team Building Hoodie

Add all items that relate to this collection

in our example, add all different hoodie sizes to your collection
When sending recipients a gift, they will always be asked to choose what item out of the collection they want. I.e. They will be able to select one Onboarding Hoodie size out of size S, M, L, XL.
Create a Campaign with an Items Collection
Once you have created your Items Collection, you can proceed to create a Manual campaign. Read more on the Manual Campaign setup here.
When adding items to your Bundle Campaign you will now be able to choose the Items Collection from the dropdown. This will automatically add all items in the collection to the campaign.

As campaigns are specific to the country, once you have added your Items collection to the campaign, Reachdesk will indicate which items out of your selected collection are available in the warehouse you chose for this campaign.

You can add one or more Items Collections to a campaign and you can also have a combination of individual items and Items collections.

For example, if your onboarding bundle contains a box, a water bottle, a pen, a notepad, and a hoodie that comes in sizes S, M & L, you would create an Items collection for your Branded Hoodie and add the rest of items as individual items. This way, recipients will only be asked to choose the size of their Branded hoodie and all other items will be automatically included in the bundle.

As collection requires the recipient to make a choice, the 'Ask recipient to confirm their details' setting will always be ON.
Sending a Campaign with an Items Collection

To manually send the bundle campaign you just created, it pretty simple:

Navigate to Send a Gift

Select Bundle Campaigns

Add the recipient data

Select the campaign yo wish to send

Finish the Manual send and it's done.

Claiming Sized Swag

Your recipients, at the address confirmation page will have the option to select their size, colour, etc. They just need to select their preference, confirme and it's done.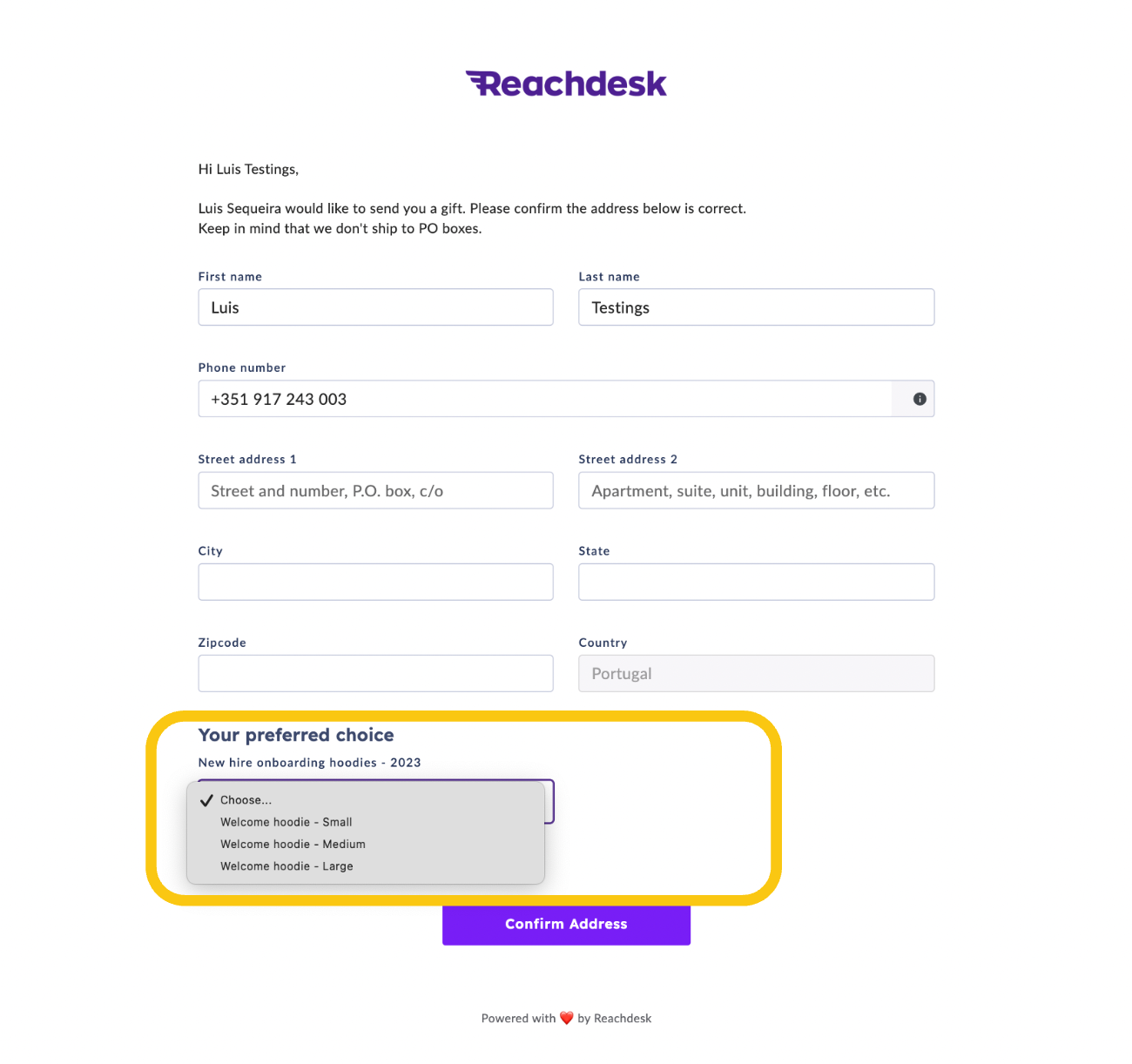 That's it!
Now, every time an engage is created from the triggered campaign you have created, the recipient will be asked to make their choice between items in the collection.
FAQ
How many Items Collections can I add to the campaign?
You can add as many Items Collections to a triggered campaign as you need. Recipients will be asked to make a choice of one item out of each collection.
What if the recipient does not make a choice?
Currently, if the recipient does not confirm their choice after the engage has expired, the send will be cancelled. We will be adding the functionality to send the engage without confirming the address and item size in the future.
Can I use Items Collections in a manual campaign?
Not at the time, but if this is something you would like to see, please let your CSM or support know and we will take on your feedback.
What if items go out of stock?
If only some items are out of stock, the recipient will be asked to make a choice from the in-stock items available to be shipped to their destination country. The recipient is always presented with up-to-date items.
If all items are out of stock before engage is created, then engage will be created as pending and you will be notified that it needs to be actioned and approved. If stock on all available items runs out after we have sent the recipient an email to confirm their choice and address, once they attempt to make a choice they will be notified all items are out of stock and encouraged to reach out to you and try again later. If you have low stock alerts configured, you will also be notified of the stock going low. Once the stock has been replenished, the recipient can re-attempt to confirm their choice and details and pick an item they like.
I can add items from different warehouses to an Items Collection, but campaigns are warehouse specific. How does it work?
Items Collections are warehouse agnostic. This is so you can create an Items Collection based on a gift that has variables and not be restricted by regions and shipping policies. This Items collection can then be used in any bundle campaign in any region. Once an Items Collection is added to a campaign, only items available in this warehouse will be shown as in stock, so you can have a better understanding of what out of this Collection can be sent in this campaign. The recipient will always only be shown items that can be shipped to them from the warehouse selected on the campaign.
Does the recipient see what they are choosing?
We do not want to spoil the surprise, so we only ask for the details we need! The recipient will see the name of your Items Collection in the dropdown field on the address confirmation page and the names of your items, so make sure they are named in a way they can understand.