Say goodbye to storing swag in your office. With Reachdesk you get space in our US, UK, EU, AU, and CA warehouses to store all your swag!
Unleash your artistic streak with products outside of our marketplace and stock up your inventory in our warehouses. This is super simple and fast to do. Here's a helpful video going over this process.
What can you do in the Inventory Page?
Send new and existing items to each of our warehouses by clicking on "Send to warehouse"
View, update and search for items you have in each of our warehouses by going to the "Items" tab
View, update and cancel ship notices by going to the "Ship Notices" tab
How to send items to our warehouses by creating a ship notice:
From the Inventory page, click the button on the top right called Send to warehouse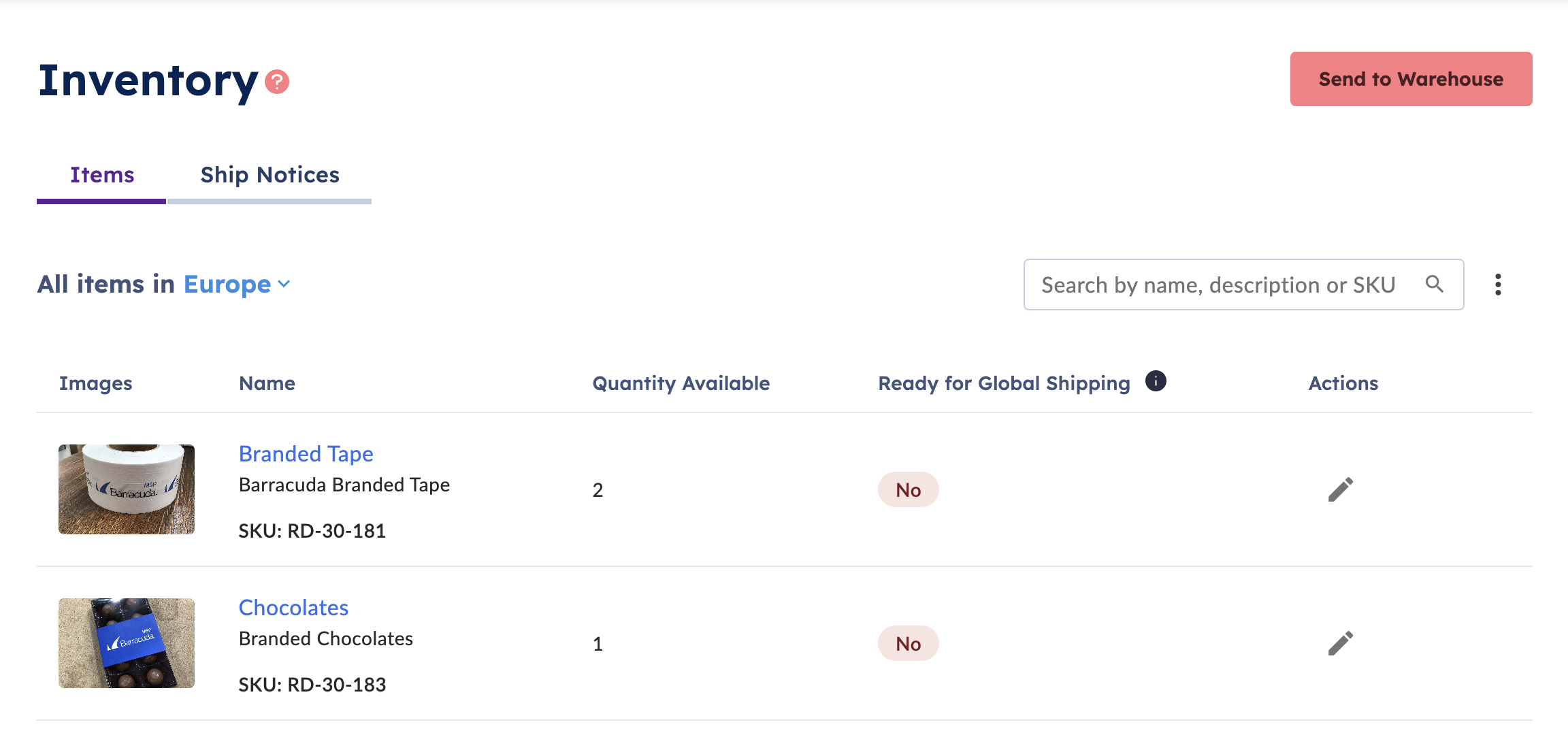 In the New Ship Notice Page, select a Warehouse

Select existing item(s) on the list and add the quantity of the item you want to ship to the warehouse

You can also add a new item by clicking the Add New Item button on the top right (refer to more details here)

Add the Quantity (if it's chocolate, plenty of them please!)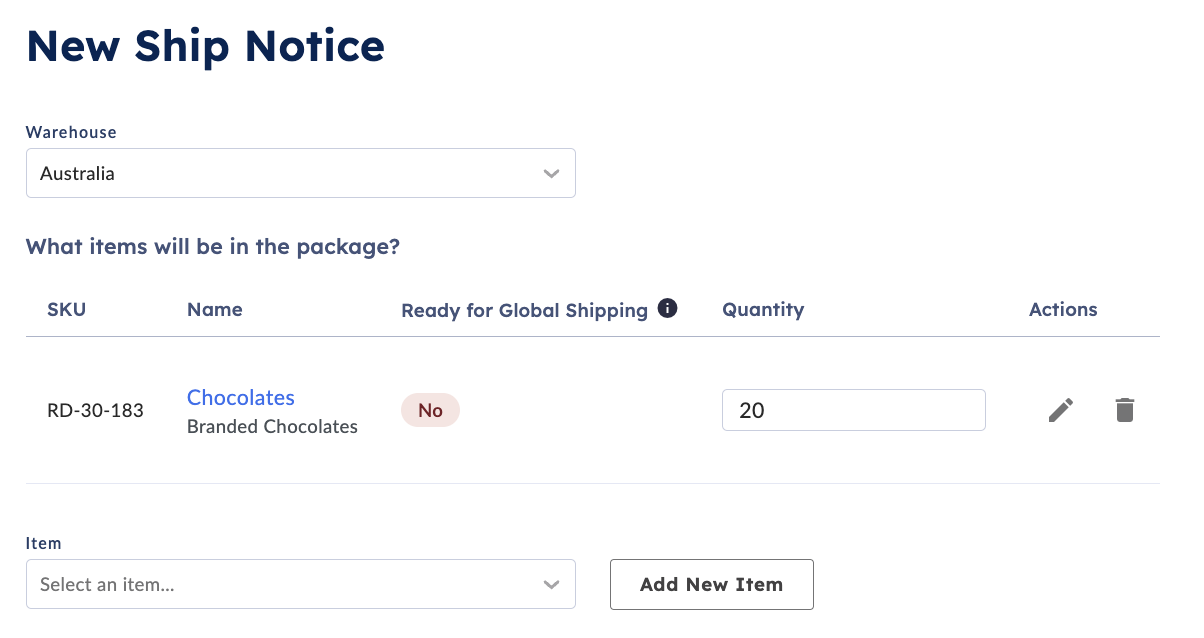 Enter the Estimated Delivery Date -

If your expected delivery date changes in the future, please make sure to update in advance!

Enter the tracking details (or you can come back here once you have this information).

This helps us and will help you track where your ship notice is and to troubleshoot any issues with the delivery.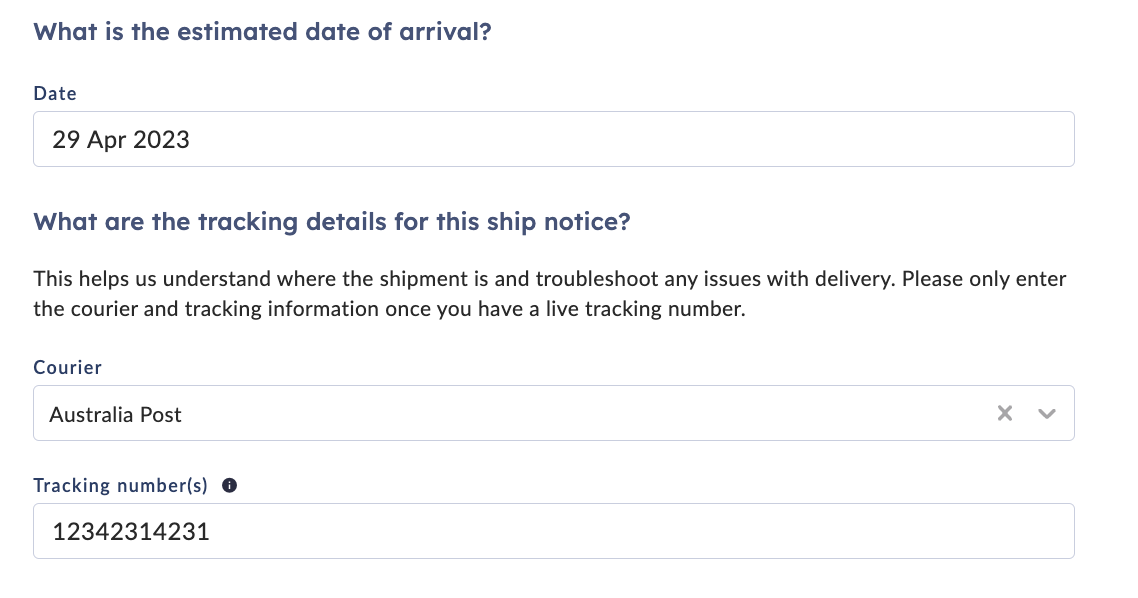 The Ready for Global Shipping column indicates whether the item has customs details in our system. Note that you can still send these items to our warehouse even if it says "No," however your users can only send it to countries outside the warehouse's trade zone if this says "Yes" and customs details are filled out.
You can click edit against the item to update the details, or click the trash can icon to remove it from this ship notice.

Hit Submit to generate the Ship Notice number and address for the warehouse. Please ensure your shipping label has the correct address and that it includes Attn: Reachdesk and Ship Notice Number as shown below.
Please Note: The Ship Notice you create will display the most up to date warehouse address. Please do not use the address from the above screenshot, as it may have changed.


Important! Even if you've ordered the item before, the Ship Notice will always have a different SN generated. It is very important that you put the new SN in the first line of the postage address. This is so our warehouse will be able to match the shipment to your customer account and know which items to expect in the delivery. If certain mistakes in the shipment process occur, this might result in a 3-week delay in your shipment being received.
For all inbound shipments, you'll still need to generate a ship notice number and include a filled out version of the packing slip in each shipment.
You will also receive a notification via email to remind you of the next steps and importance of the Ship Notice Number.
Once your items have arrived at the warehouse it takes up to 5 working days for them to appear in your inventory.
Some additional important notes before sending us any inventory:
If you are importing inventory from another country, you (or your vendor) are responsible for paying any related duties and filing any import paperwork. Your inventory will get stuck without this! Unfortunately, Reachdesk cannot accept any inventory without duties paid.

Any boxes arriving that weigh more than 20kg must be clearly labeled as "heavy weight" - we're looking out for the health and safety of our warehouse staff.

Products that expire must include the expiration date on the master carton and on the individual units

Expiration dates must be displayed in the format MM-YYYY

For larger, palletized shipments:

Please contact your Reachdesk Customer Success Manager for inbounds larger than 2 pallets or 20 boxes

For inbound shipments larger than 5 pallets, Reachdesk customer service will provide the proper warehouse receiving department's contact information. Your carrier must set up a delivery appointment prior to delivering your inventory.
How to add a new item to your inventory:
In the New Ship Notice page, click Add New Item.
Add the Item Name. Please name the item as specifically as possible e.g. The 'Stefano' Dark Chocolate Box, Stefano Chocolat Ltd Expires 2023/10. This will help you identify it at a later date.
Add the Item Description. Please add a detailed description. For example, for apparel items, make sure to list as many relevant details as necessary e.g. (V-neck, crew neck, etc), colour, gender and size.
If you plan to ship this item outside of our warehouse's trade zone, please select YES and you will see more details about the item's customs information that need to be populated.

For example, if you are shipping from our Ireland warehouse to the UAE, this will be required.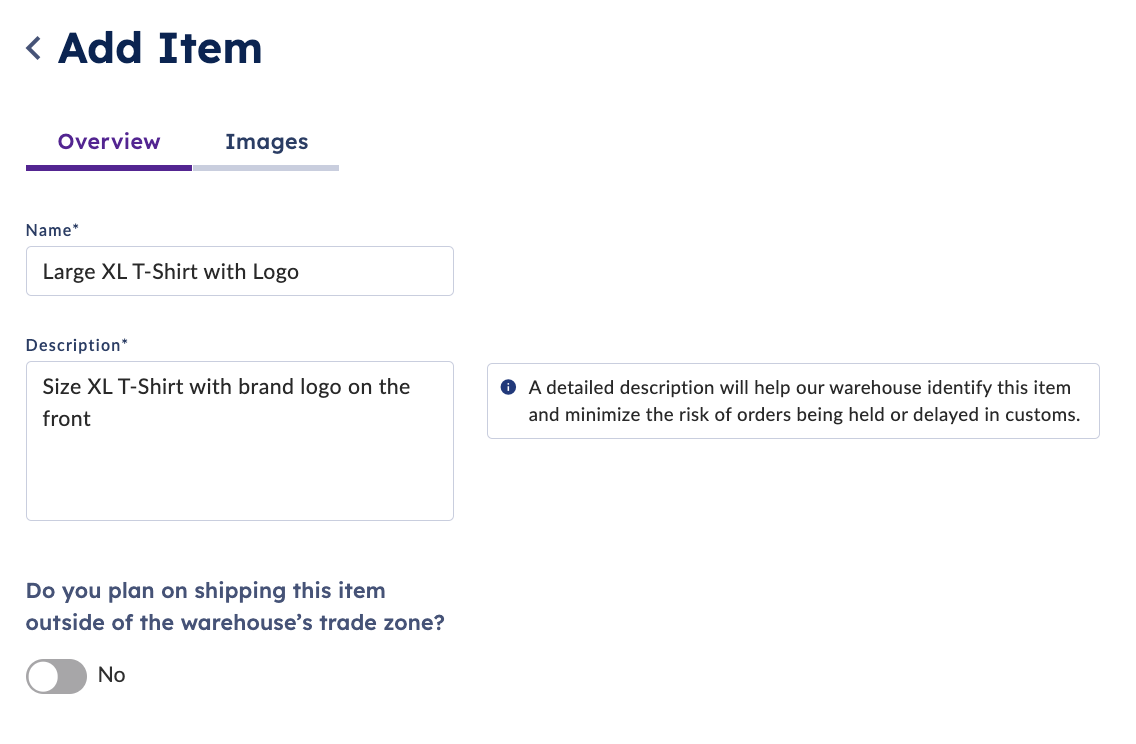 Where can I ship to?... (Mars warehouse coming soon…) and how much does it cost?