This will help guide you on how to top-up your company, team and user wallets.
How can I add credit to my company, team and user wallets?
Go to: Balances > Wallets

Click on Add Credit on the top right of the page

In the Account & Amount section, select either Company, Team or User and populate the amount of money and currency account you want to top-up.
Example of adding 100 CAD to your Company Wallet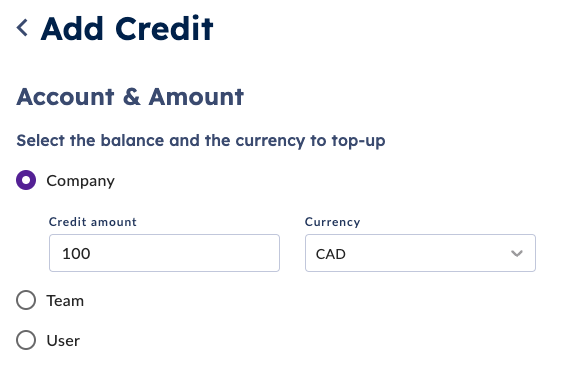 Example of adding 100 CAD to a Team Wallet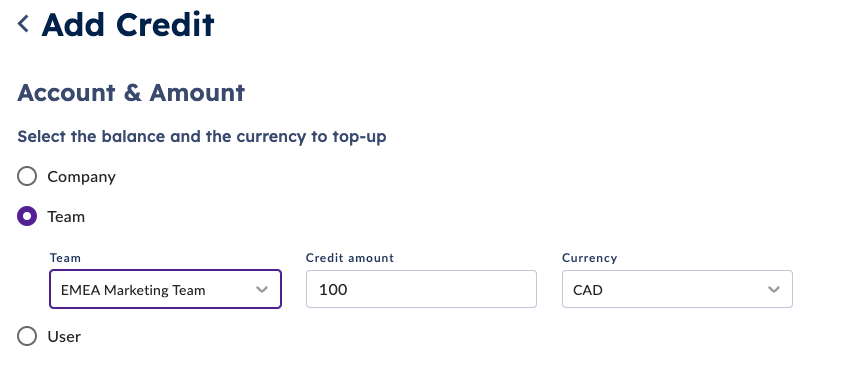 Example of adding 100 CAD to a User Wallet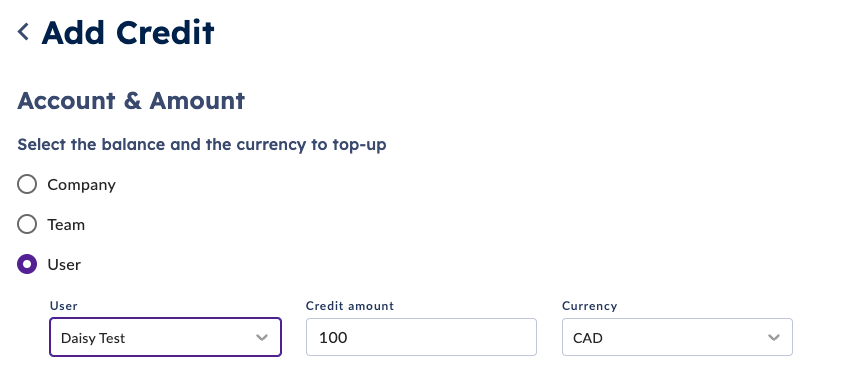 4. In the Billing Entity section, select which Billing Entity you want the invoice to be addressed. In some cases, there is only one so this should be pre-selected. If there is no billing entity, or you cannot find the right billing entity, please contact support@reachdesk.com so we can add this billing entity to our invoicing system.
5. (Optional) Fill out any additional emails that should receive the invoice. Please make sure you include the email of the department or individual who will be paying the invoice.
6. (Optional) Fill out the PO Number if you want this to be referenced in the invoice.
7. Select whether you want to pay the invoice via credit card or bank transfer.
9. You and the additional emails you added will get an email with a copy of the invoice.
Are there limits on how much we can add to our account?
There are no limits for bank and credit card transfers.
What if I can't access this page?
What if I don't want to pay via invoice or want to top-up using a different method?
We do have plans in the future to enable users to top-up their balances directly via a credit card (without an invoice), but this is still being prioritised. We will keep you posted on when this feature is being worked on. Please contact your CSM for further questions and updates.