Packing requirements

The packaging can be a really important part of the gifting experience so we want to work with you to ensure a smooth experience.

Some examples of packaging requests:

Add crinkle paper to your boxes

Wrap fragile items in bubble wrap

Include a personalised gift note

Place items into a precut mold

Package items in a certain order

Put a protective later in between layers
Any packaging requests outside those listed above will have to be taken on a case by case basis. For example if you want to tie a ribbon around a box, put sleeves around multiple items or we need to assemble your gift products then there will be an added service charge.
if you would like a photograph of a sku, please reach out to your CSM.

Please get in touch with your Customer Success Manager to arrange a quote.
We don't provide cold packs for shipping chocolate. We advise against sending chocolate in Summer as it will melt.
How can a user add packaging notes to a campaign?
When creating or editing a bundle campaign, the user can select the option to add packaging instructions as seen below. Make sure the instructions match our terms and conditions mentioned above.
"Allow edit on sends" can be selected if the campaign's packaging instructions can be edited before it is sent.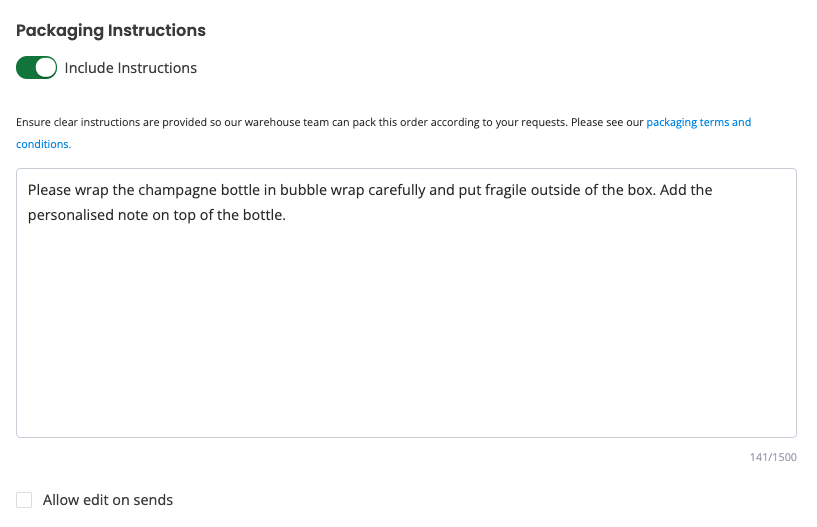 How can a user update packaging notes in a bundle engage they are about to send?
When a campaign has packaging instructions that can be edited on sends, when the user is about to send the campaign, the "default" instructions are pre-populated, but can be edited before the campaign is sent.