🍾🎁🎉
The New Marketplace is here! We have completely revamped the Marketplace with a new look and a better way to browse to find what you are looking for! Video walk-through at the bottom!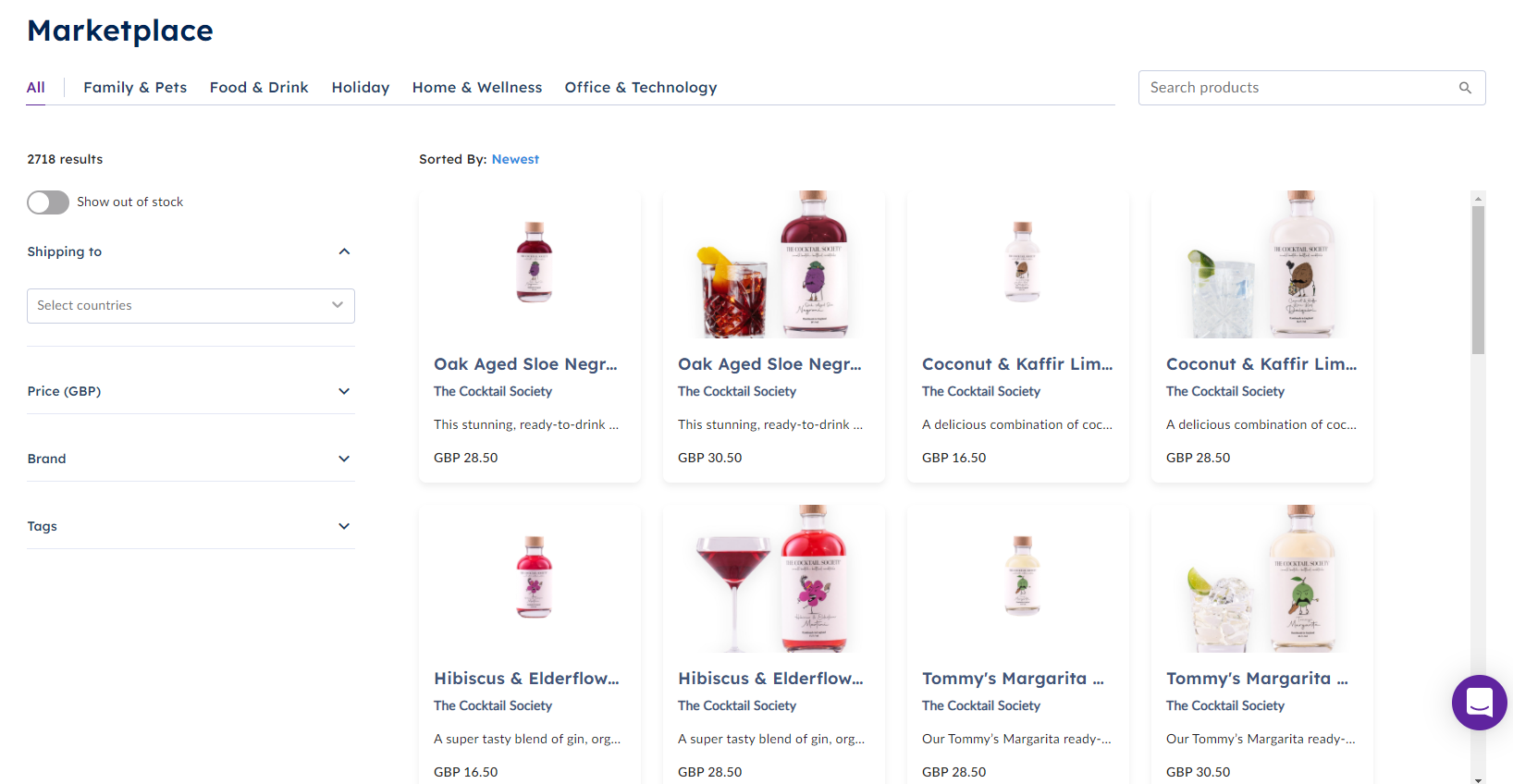 Revamped layout:
We have done an overhaul of the entire look and feel of the Marketplace. Main categories now display along the top as tabs, with filters on the left hand side, giving you a more familiar feel when browsing for products.
Filter by Brand Name:
A new filter we have added to help showcase all of our amazing vendors. This will help you see all other available products from your favorite vendors! You can multi-select brands and see all products available from the selected brands.
Filter by Tags for fine tuning your search:
A brand new addition, both as a filter and additional detail, for Marketplace products. Introducing Tags, a way to really fine tune your search and help narrow down your results to find exactly what you are looking for. Currently, we have the following tags to filter by; Alcohol, Baby, Baked Goods, Brandable, Cocktail, Flowers, Gift Box, Gluten-Free, Liquor/Spirit, Non-Alcoholic, Pet, Sustainable, Vegan, Vegetarian, & Wine.
Modals to provide more product details:
Now, when you click on a product, instead of going straight to the campaign creation, a modal will pop-up. This will contain full product details; full length description, the cost in your preferred currency and the original currency, all of the countries the item can ship to, and the tags associated with it. From here, you can choose to create a campaign, or return to your filtered results.
Image Carousels:
When viewing the list of products, whether a products has multiple images, you can click either side to scroll through a carousel of images!
Multi-select filter for Countries:
A new way of filtering your search results by country. Previously, you could only select one country at a time, with our new Country filter, you have the ability to multi-select countries. The products which display will only be available to ship to all countries which you have filtered by! This will help you build campaigns that can go to multiple destinations.
All prices shown in users preferred currency:
Previously, prices were displayed in the vendors currency, which would make it difficult to know the value of the product and would impact the price filter. With this change, on the main view all product cards will automatically display in the users preferred currency, the price filter will also work in relation to the preferred currency, so you are able to search the results based on the currency you know most! If you would like to view the price in the original currency, simply click on a product, and within the modal the second price displayed will be the original currency. By changing your preferred currency in your user settings, can will change the currency shown in the marketplace.
Sort by:
Another new addition is the sort by feature. Allowing you to sort your results by; Newest products, Oldest products, Highest Price, and Lowest Price. This will default to Newest, so you will always see the most recently added products at the top of the page, every time you visit!
Search Bar:
The search bar will now begin searching automatically once you have entered at least 2 characters. The search parameters will cover the products title, description and brand name.
Show out of stock:
By default, all out of stock products will be hidden when arriving on the page. If you would like to include out of stock items in your search, simply toggle this feature on for them to display!
Applied Filters:
In this section, with every filter you add, it will appear under 'Applied Filters' and the top of the filters section. Within here, you can individually remove filters 1 by 1 to take anything you want our of your search results.