Time to get integrated with your people management platform
Welcome to one more HRIS integration! Reachdesk integrates with ADP too, let's set it up!
What do I need to set up the ADP integration?
Let me guide you through this setup. ADP requires you to create a Practitioner role in order to configure your ADP integration.
Create an ADP Practitioner Role
Log in to your ADP account

Go to Setup, Access Permissions, Manage Profiles and click 'Create Profile' and fill in a name for your reference and 'Practitioner' as role

Click 'Create Profile'
Now let's go to 'Menu & Features', then let's click 'Reports & Analytics' and tick the boxes as per below screenshot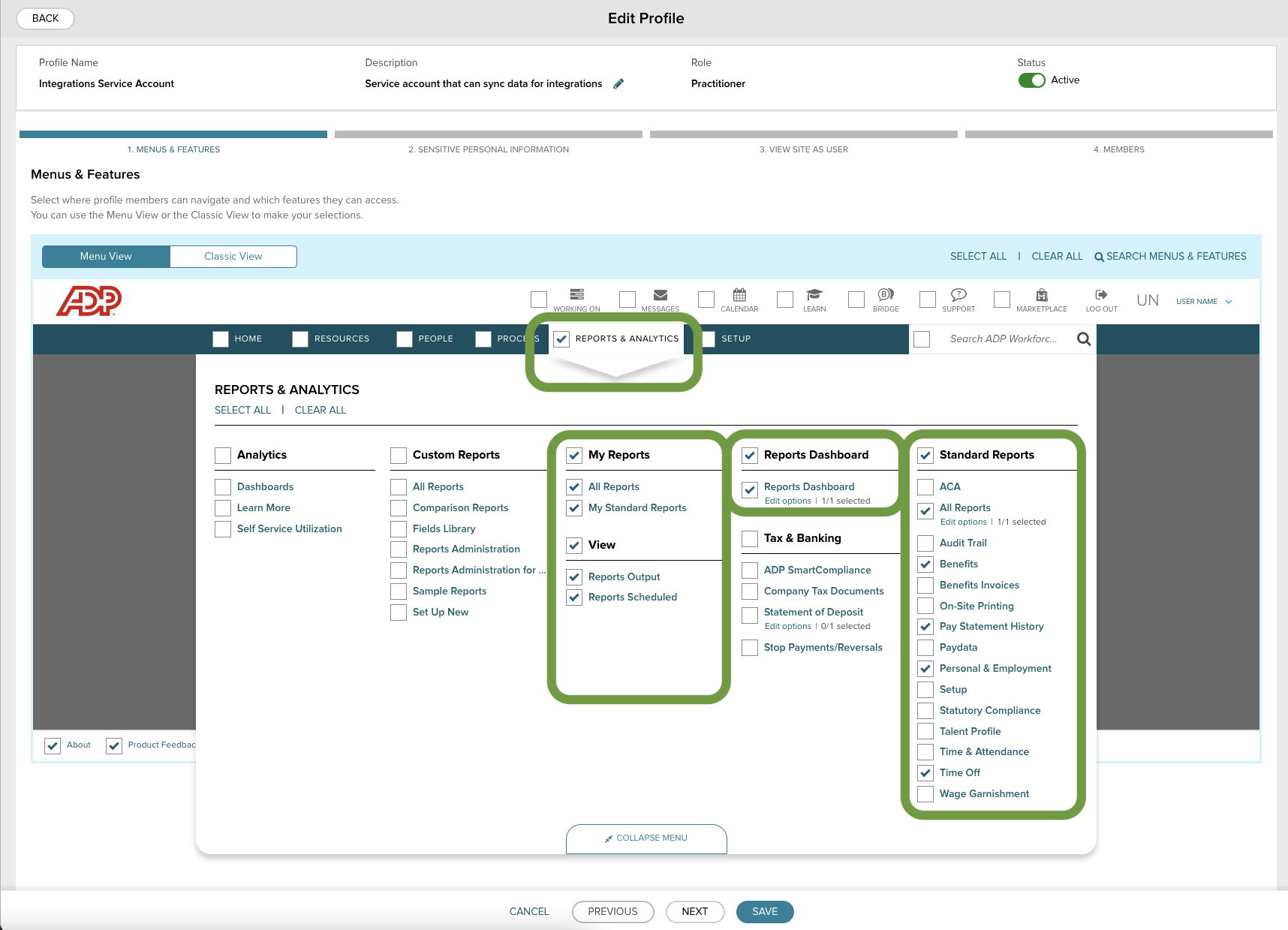 Under the Standard Reports column we need as mandatory permissions :
All Reports

Personal & Employment
Please go to the 'Sensitive Personal Information' tab, make sure to set 'No Masking' in the 'On Reports' and 'On Screens and Reports' columns so the service account can securely sync your complete data set.
Then let's go to 'Status & Save', switch the toggle to activate the profile, and then click 'save'.
Nota bene : The system will allow the integration with less/different permissions but it will not function as expected.
At this stage we need to create a new user and assign it to that 'Profile'
Please got to the 'Setup' menu, select 'Security Management'

On that page, click People, Manage Users then hit the '+' button to add a new user

Fill in the fields First Name, Last Name, Email address and under identity type please make sure to select 'none'
Time to set up the service account
On Step 1 User Information, set the User type to the 'independent contractor' option, and set the User Role to 'Product User'

On Step 2 Services, if there is an option to give the user access to Workforce Now, select that. If there is an option to make the user a Practitioner, select that too (you will attach their permissions via Profile later)

On Step 3 Confirmation, just confirm the new user

Now let's go to Workforce Now, Access Permissions and go to the 'Manage People' page

In the search box look for 'Service Account' to find the new user

Click the user

to pull up 'User Access Permissions' then select Manage Profile Memberships. Add the Service Account Profile that you created to the user and click Save

The user has been linked to the right Profile, verify that the 'Menus & Features' and 'Sensitive Personal Information' for this user match what you set up in the Profile earlier

Now please go to 'People Access' and verify that the user has 'View Only Access to all People'

Lastly return to the linking flow and click 'Submit' button to integrate ADP with Reachdesk you should be all set and ready to send gifts to employees!!!
Note: When connecting a new integration it will take up to an hour from the moment the integration is connected before the employee data can be fetched and used. If you find things are taking longer than 24 hours, please follow up with support@reachdesk.com. The integration will be then synced every day at 7 AM UTC.
FAQ
Who can set up this integration within Reachdesk?
For any HRIS integration we require only one user to set up the connection between the integration and Reachdesk.
Who can access a user's integration?
Every user who can access the Reachdesk platform is allowed to use the data in the integration once it has been set up. It's important that a user that connects the integration is an admin or has high visibility on the HRIS being connected: they need to have access to employees that have left, have not yet started as well as address, birthday and start date information in order for the product to run effectively.
Presently the Chrome extension is not available with the ADP integration
Nota bene : Please remind that only Reachdesk admins or CM can create triggered campaigns. For further info please refer to this article.
Can I connect more than one HRIS software?
You can only connect one HRIS software per organisation at a time. For example if you connected the Reachdesk platform to HiBob you won't be able to connect to Workday at the same time. In case you need to use a different HRIS software please disconnect the first one, Hibob to follow the previous example and then connect to the Workday integration.

If you have any questions not covered here, please let us know at support@reachdesk.com!