Intro:
In this document you will find everything you need to know about our recently updated eGifting experience! The changes we have made are designed to make the entire end to end experience easier, from the way you browse and build campaigns, through how you spend and send across different countries, to the way the recipient views the options you are gifting them!
Highlighting some of the major changes:
Removal of Currency Restrictions & Ability for International Campaigns
Catalog View
Build as you Browse
Country Filter
Select All
The Redemption Page
Custom Branded Redemption Page
Removal of currency restrictions, allowing you to build international campaigns no matter what currency the gift card brand is in, or the payment currency you want to use. No longer do you need to figure out the value of a gift card in a foreign currency, simply select the currency and the range you want to build your campaign in and we handle the rest! You can set the campaign up in any currency you like and based the value you want from that, then within the send flow you select the payment wallet you want the funds deducted from. We convert everything within the catalog to fit within the range you want to spend. Your recipients will still receive their gift cards in their local currency related to the brand, but you can send in the currency which makes the most sense to you!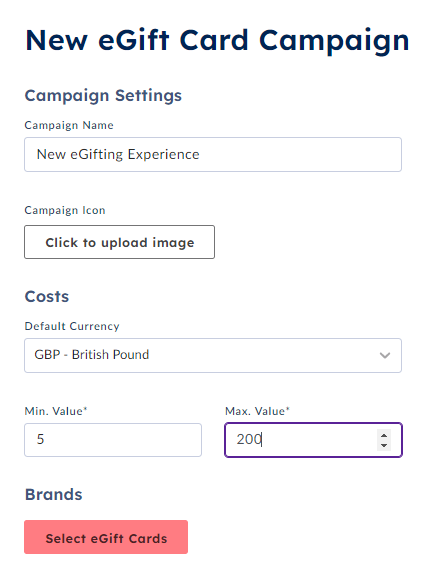 Introducing our new Catalog View of all our available gift cards. With the look and feel of the Marketplace, you can now browse with ease without endlessly scrolling through a drop-down! With categorization, filters and a search bar, you are now able to navigate of catalog like never before. Simply by clicking on any brand with produce a modal to provide full details of the brand, including; description, amounts it can be sent it, countries it will work in and the redemption type. The price range and currency you enter on the first step will automatically be applied to the catalog to ensure everything you add to your campaign is available within your budget. Once in the catalog you are able to adjust the price filter, just be aware that this will also update your campaign settings, so if you reduce your range and have already added some brands, they may no longer be available within those amounts.
NB : In case of landing pages the e-gift will be loaded with the min value by default. So to add a fixed amount min/max value should be identical.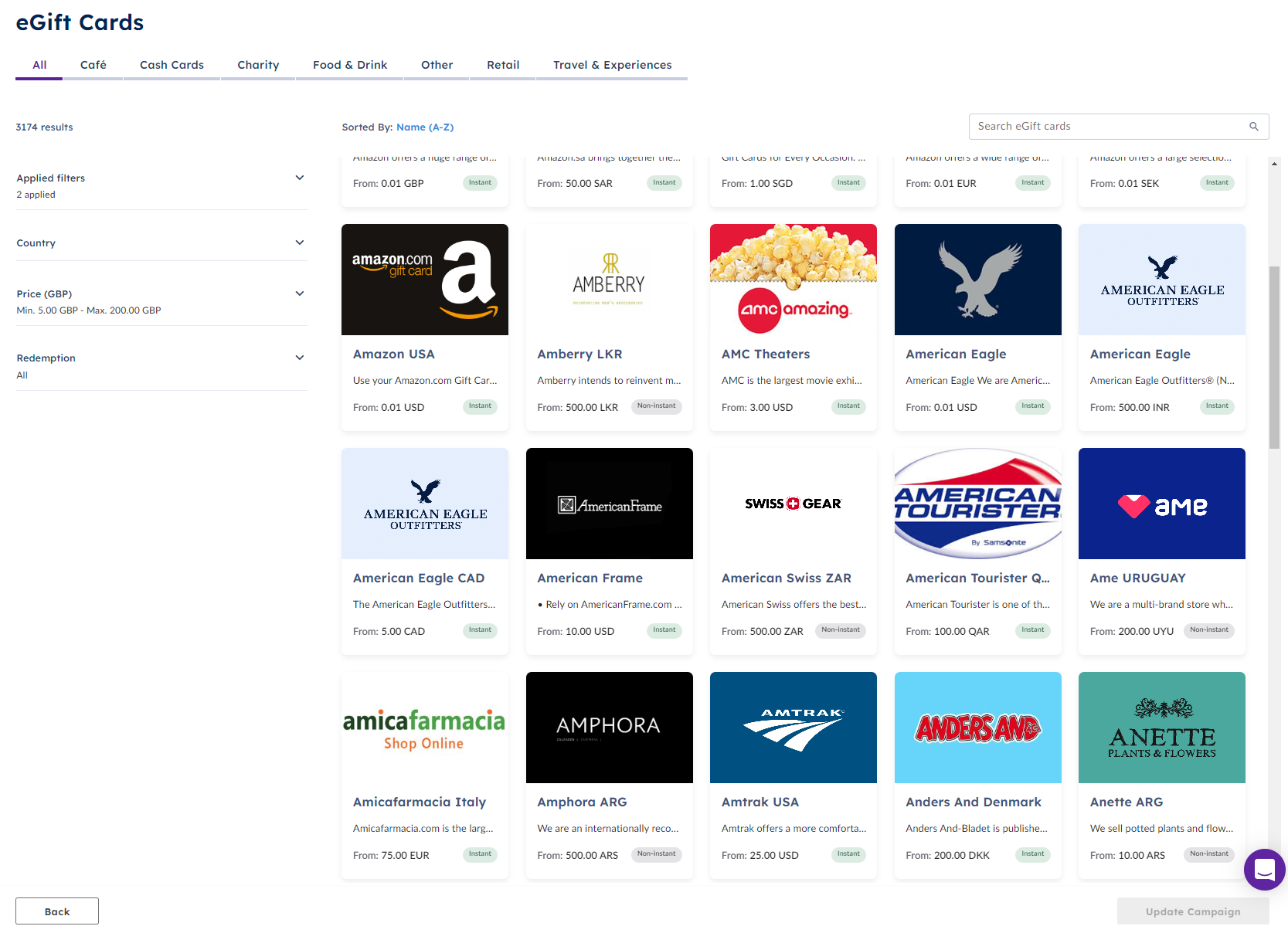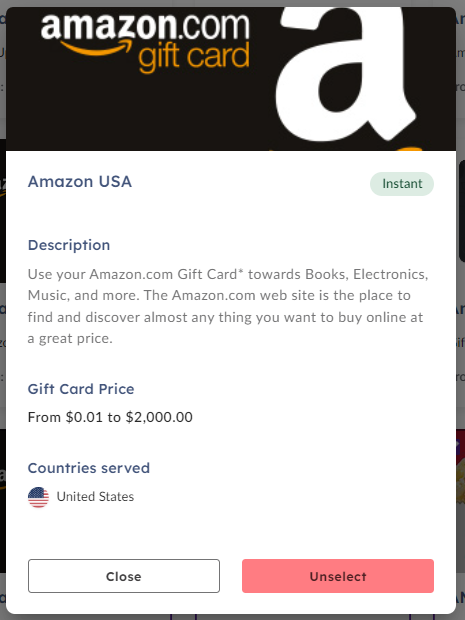 All new Build as you Browse experience allows you to search through the catalog, and as you see brands you like, you can easily add them to your campaign. Either by selecting the checkbox in the top left of the card, or via the select button within the modal. We also have a Show Selected button at the bottom of your screen, which will filter the results to show you what you have added to your campaign so far!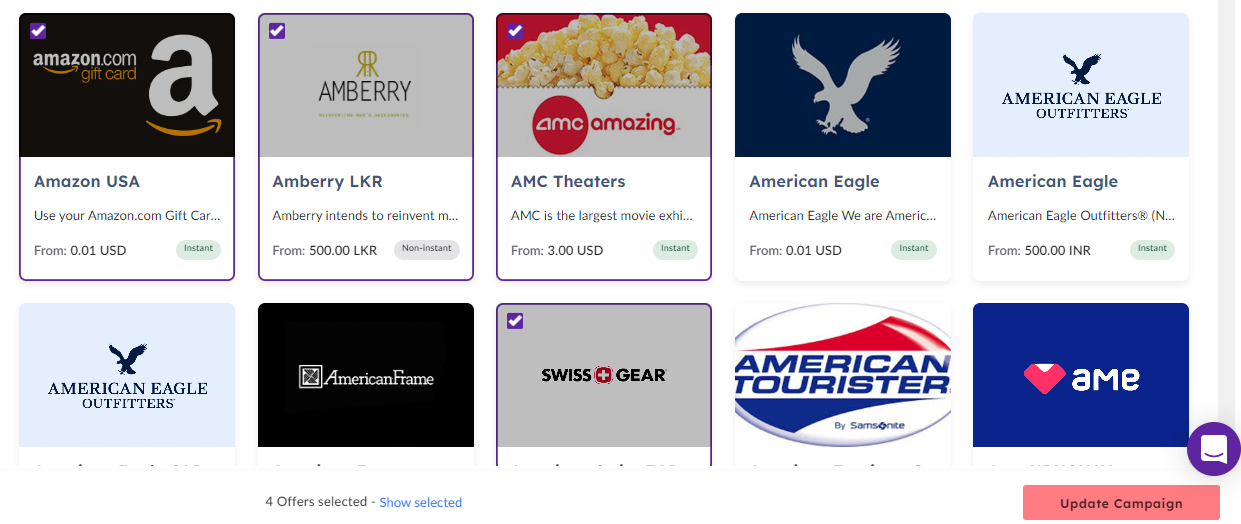 The Country Filter allows you to filter your results based on the countries you are targeting. The filter works in a way to include ANY brands available for the countries selected, meaning, it will not show cards that can only go to the countries selected, rather, it will show any cards that can go the countries added. So, if you add 3 countries, it will show all available brands across those countries. This helps you to quickly build campaigns covering the regions you need, combined with the select all feature below.
Select All: Quickly build campaigns with the Select All feature, letting you filter to your needs and simply hitting select all will add all brands from the page you are on to your campaign. This feature comes with an Unselect all option, this works on a page by page basis in the build view and will only unselect brands from the page you are on when all are selected. When in the 'show selected' view it will remove all brands added so far. (You can add up to ~900 brands to a single campaign, once hit, select all will not be available)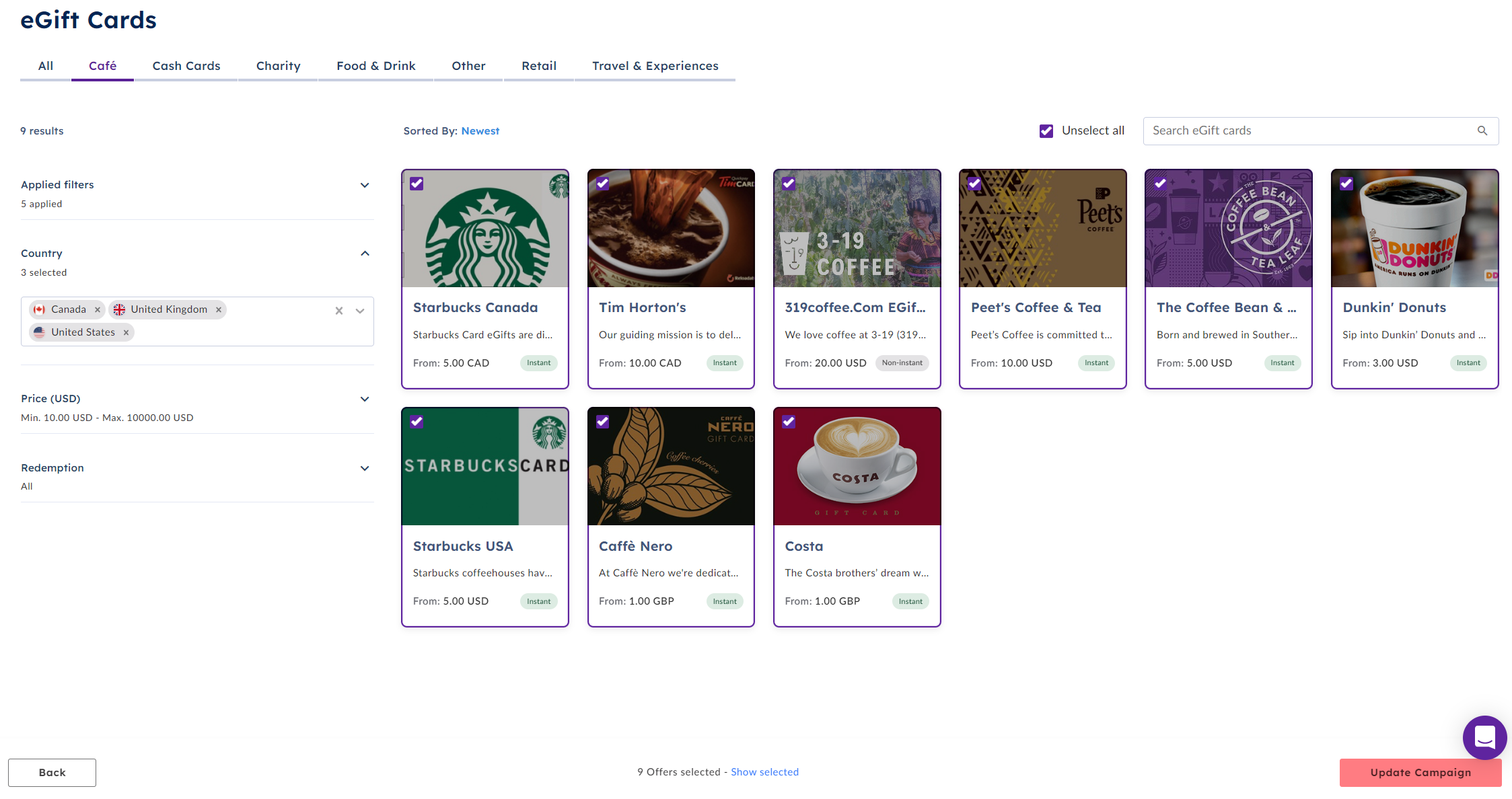 The Redemption Page for your recipients has had a major face lift. It now offers a true browsing experience, providing full details of each brand on offer. Not only that, with the new ability for international campaigns, if you got the country wrong you no longer have to worry! As long as you have added gift cards from their country, they can simply change the country filter to the one most suited to them, which will display results available in that country, making sure there is an option for everyone. With the updates to this page it means you can add many more options to your campaigns, increasing the likelihood that there is something for your recipient to claim! Whats more, is this will also come in a Mobile friendly format!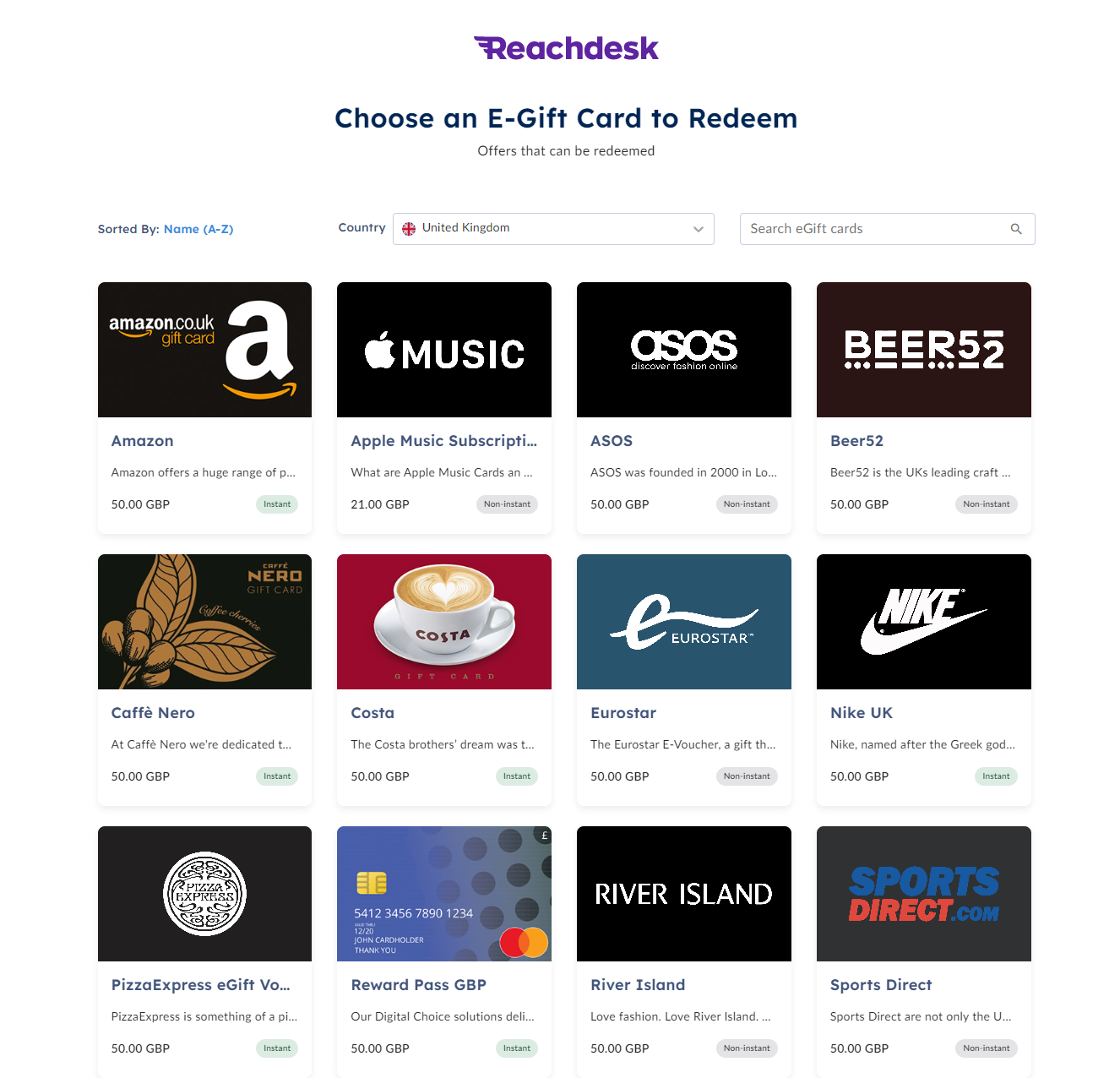 Custom Branded Redemption Page: Your logo and color scheme will be on display on the Redemption Pages! Your logo and color scheme will replace the Reachdesk logo and CTA buttons shown above. This will be populated from the Branding Section under your Organization settings. This is the same method that is used to custom brand email templates and the address confirmation landing pages.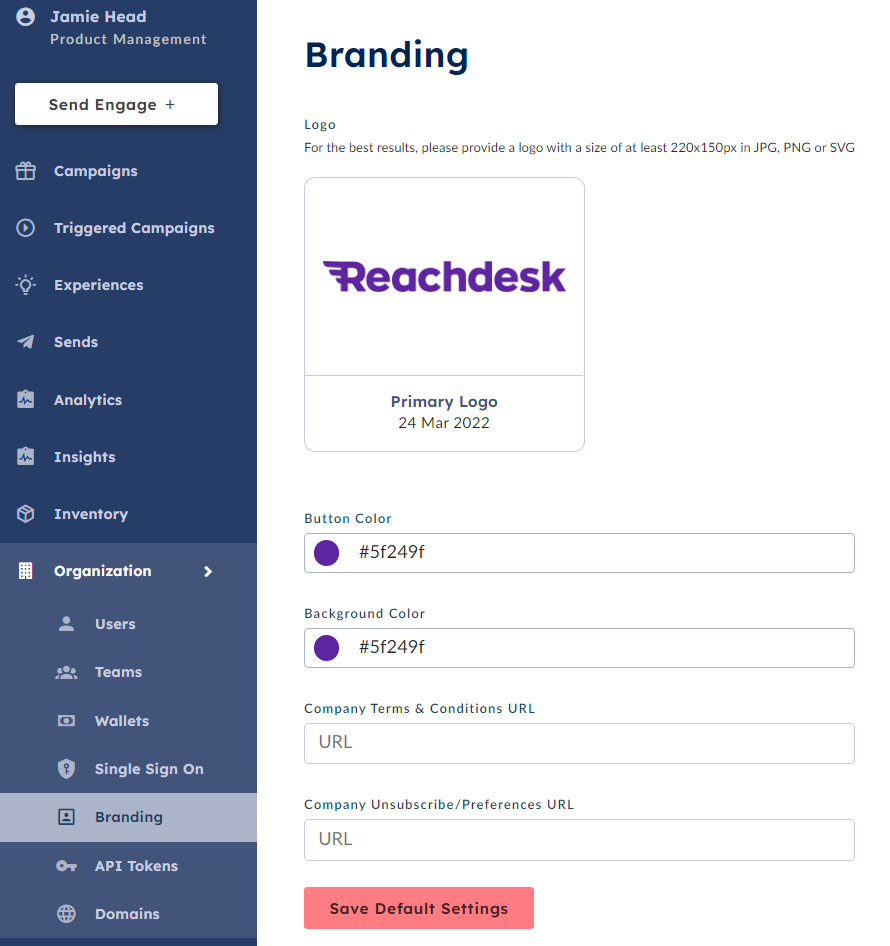 Additional Features Coming Soon!
(Designs are subject to slight adjustments and may not reflect the final product perfectly)
Main Offer: Still be targeted with your wording focusing on a specific gift card, but include many options for your recipient to switch to, making sure there is something for everyone!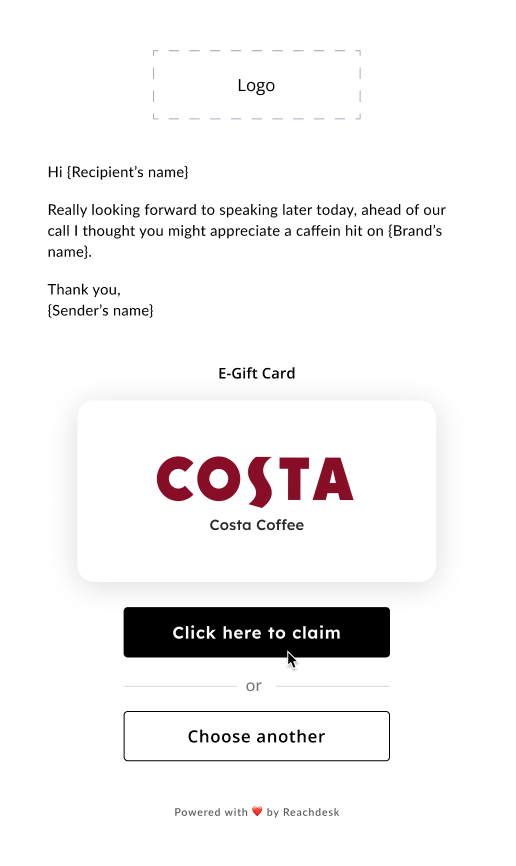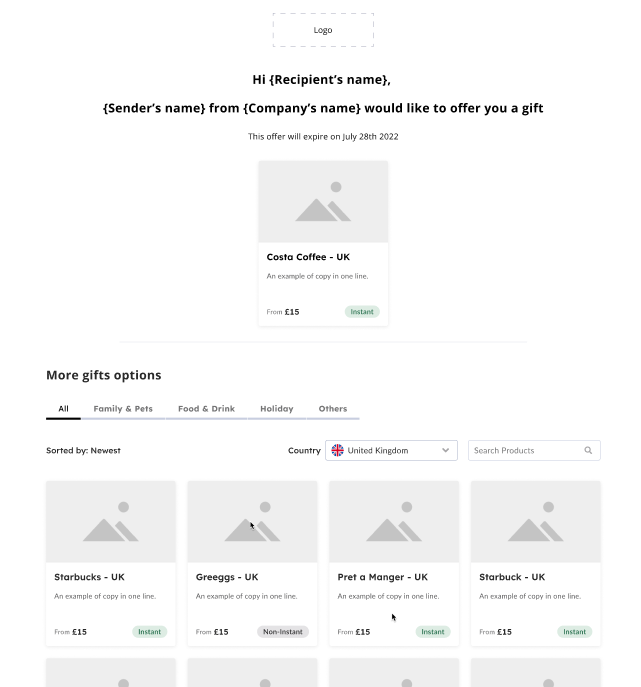 Send Flow - Price Selection: A simplified sending experience to make sure you are sending the right amounts whilst ensuring your Main Offer can be claimed in the amount you want to gift. The price and currency you enter will clearly show the amount the recipient will receive.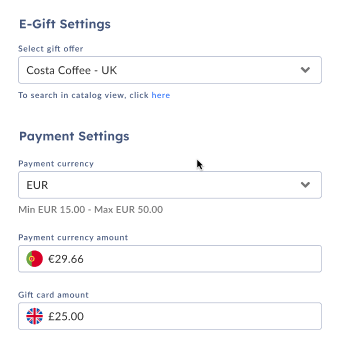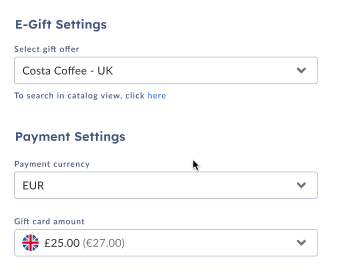 Open Value Fixed Denomination
Send Flow - Main Offer Selection: Allow your senders to get creative, let them change the Main Offer to suit the occasion or recipient within the send flow. From either a drop-down or catalog view