To facilitate the sending of gifts, recipients need to be alerted that a present is waiting for them! For physical gifts, recipients are asked to confirm which address the gift should be sent to.
By verifying additional domains, you can enable correspondence to come from the email that your users signed up with. Some Reachdesk customers prefer this custom setup as it enables on-brand personalised communication.
By default, email outreach via the platform comes from gifts@reachdesk-mail.com. Carly works for stg.reachdesk.io and signed up to Reachdesk with the email carly@stg.reachdesk.io
Post the addition of stg.reachdesk.io as a custom domain, email outreach sent by Carly through the Reachdesk platform would now come from carly@stg.reachdesk.io rather than gifts@reachdesk-mail.com.
You will need to reach out to a person in your company who has access to your company DNS provider in order to complete this set this up. Domain's will need to match your main company domain.
Visit Organization > Settings > Domain page in Reachdesk and click to Add New

Type the custom domain you would like to enable and hit Add Domain.
Important - N.B : 'www.' or '@' prefixes are not required when adding your domain. Simply add 'yourdomain.com' below to start setting up email outreach from a custom domain.
Step Three
It's time to start the the Domain Sync Process. In order to guarantee effective delivery, copy your DKIM, Return-Path and Verification code values presented in the table below then head over to your host or DNS provider and access the area where you can add new DNS records.
In your DNS manager on your DNS Settings page :
Add a new

TXT record

for the

DKIM Value

Add a new

CNAME record

for the

Return-Path Value

Add a new

TXT record for the Verification code Value (please keep the record name blank to create a record for the root domain or check your domain provider help center )
Important☝🏻 The third record with its unique verification code will add an extra layer of security to your domain verification within Reachdesk. In case you cannot see the verification code under the record column it means your domain was already safely verified prior to this update and no further action is required.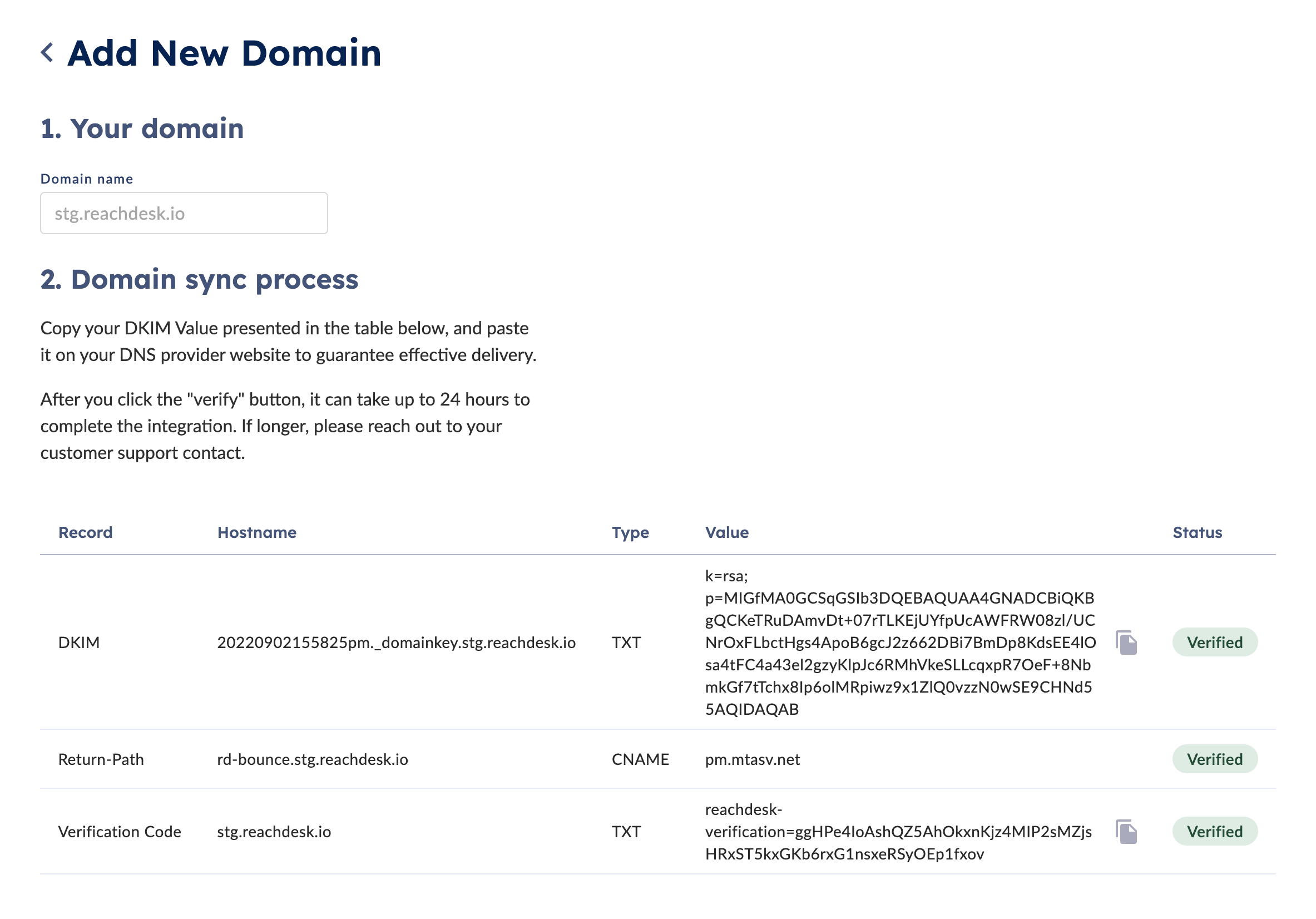 Once the records are added to your DNS, your domain will show as verified in your Reachdesk account within 24 hours. You can use the Verify button to initiate a manual verification check if you do not see the record automatically become verified.
Note - You will see the grey 'unverified' pill switch to a green 'verified' pill once the setup is complete. If you find things are taking longer than 24 hours, please follow up with support@reachdesk.com.
Once the status shows the domain as verified, tick the domain you want to activate custom correspondence to come from. Reachdesk will begin sending correspondence from your users who signed up using this domain.
For all users in your account who have signed up to Reachdesk with email addresses using this domain - correspondence from these users to recipients will now come from the email address that they signed up with. You can verify the setup for individual users by visiting the user page. Here you can see the email that the user signed up (Sign Up Email) and the email that they are setup to correspond from (Sending From).
Step Six
Accounts that have users signed up using multiple domains
In some cases companies have users signing up with email addresses using a variety of domains. For example in case users have signed up with @stg.reachdesk.io and @testing.com

well in these instances adding the additional domain(s) (by following the process above again) will enable these users to send from the email they signed up with.
You can delete a domain by clicking on the dustbin icon.