The boom in WFH and hybrid working has fundamentally changed how people interact with one another both in and outside of work.
The in-person events and social exchanges that used to take place between companies and their prospects and clients that helped build strong relationships are not happening at the moment.
Equally, it's much harder to drive engagement and team building for internal teams as it's currently not possible to get everyone together for in-person social events - or even just go for drinks after work.
And Zoom fatigue is a real thing that is affecting us all. If you're putting on a hybrid or virtual experience, it needs to be something compelling to stand out and make people want to attend, and then stay engaged.
This is why we've introduced Virtual Experiences - facilitated online events and experiences coupled with surrounding sends to elevate the attendee experience.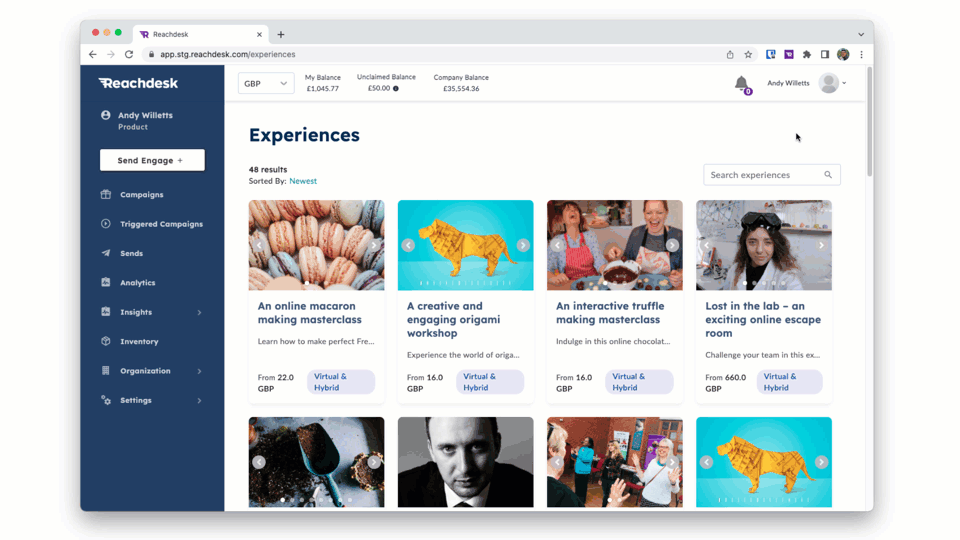 Choose from a large and diverse catalogue of curated hybrid and virtual experiences augmented by bespoke bundles designed byour in-house team, creating the perfect experience for prospects, clients, and employees alike.
By producing your event with us, you:
Get access to a marketplace of incredible experiences from a variety of carefully-chosen vendors

Drive signup and address collection with bespoke branded landing pages

Minimise supplier management and make invoicing simple by paying Reachdesk directly for the experience and use your platform balance for all associated costs

Get support throughout the whole process from your dedicated client success and project managers

Level up the event experience with sends from the Reachdesk platform
Using the sends on the Reachdesk platform can be a unique opportunity to further engagement and make the experience incredible for your attendees. Your client success and project managers can work with you to brainstorm uniquely creative sends but a few successful ideas are:
eGift cards for lunch credits or prizes to attendees

Marketplace / bundle sends for pre-event invite

Marketplace / bundle sends for post-event thank you for attending
Keen to get started? Simply browse the catalogue of experiences and submit your request in Reachdesk.
This feature is accessible by administrators and campaign managers and is included for all Enterprise tier clients
Clients on the Business and Company tiers can now also access Virtual Experiences by paying an annual activation fee when they book their first experience.