Give your recipients the choice on what physical gift they would like receive with the use of Pardot forms & automation
Easy set up from your side and freedom of choice for your recipients.
For a choice in E-gift cards please check this article
Step 1.
Set up your different physical gift choice campaigns in Reachdesk.
Go to triggered campaigns > fill out all the details as per usual. For extra information, please see this help doc.
In the Section Campaign Automation select as connector 'Pardot' as per screenshot below.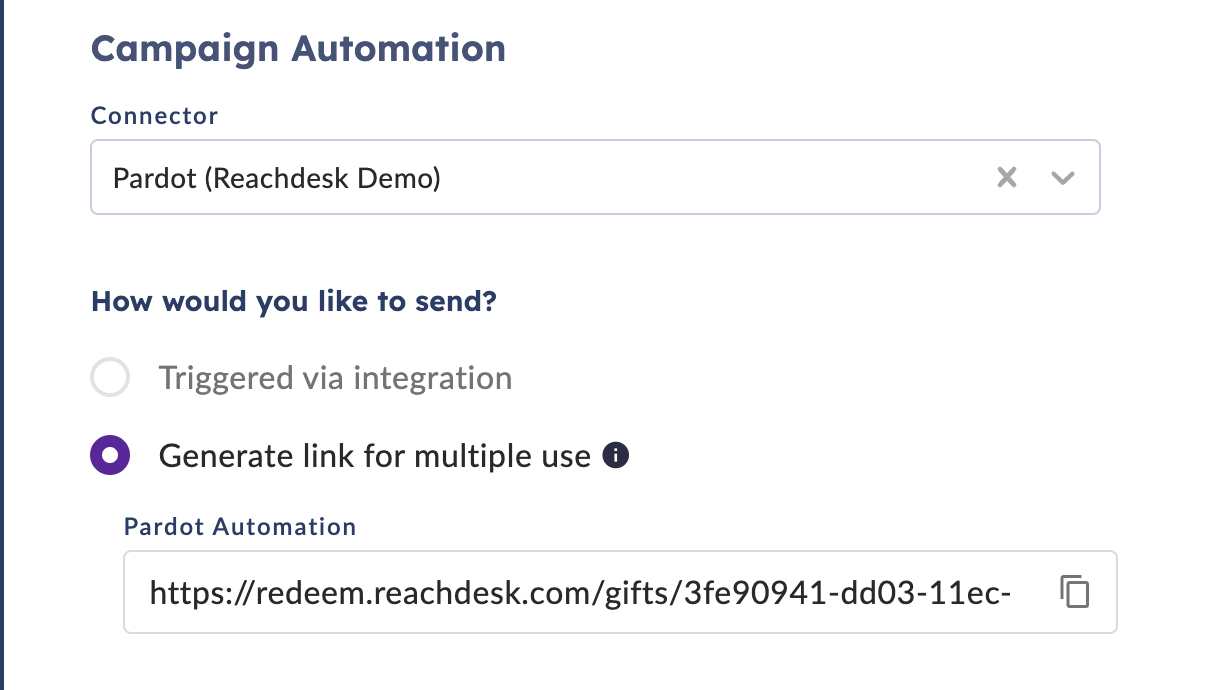 Once you save the campaign you will get a unique link related to the gift you have chosen.
Select your payment source; at this moment in time the connector is also the payment source but you can choose your currency.

There is 1 unique link per campaign as this is a physical gift choice.
So if you have multiple gift choices, please be aware they will need their own Reachdesk campaign.
Make note of the different links as you will require them in your pardot emails.
Step 2
Create your Pardot form.
The minimum requirements for a form are:
First Name
Last Name
Email address
Country
For the Gift selection you can create a custom field with the values corresponding to your gift selections.
Use Field type Dropdown.
You can add all the values you need in there and select the ones required form by form.
If you for example want to send to different countries use the country field as a predetermined field to show only the gifts available in the selected country.
Step 3
In your automation flow select your Form containing the gift choices.
See example below of how the automation rule looks in Pardot.
Repeat this process for the different gifts you have that also require their own email templates and repeat the automation rule accordingly.
If you would like to discuss more or need a hand with some creative ideas, please get in touch.